Eh.. nope.
From Schmalfeldt's Opposition to Defendants Motions:
It is true that Plaintiff has tried to get justice against some of these defendants in the past and has stumbled over the hurdle of Personal Jurisdiction.
Stumbled?  More like this..
And yet, he tries again saying, "I figured it out! I've overcome my past pro se mistakes!"
Having learned from his past, pro se mistakes, Plaintiff feels confident the Court will see that due process is served, the South Carolina Long Arm Statute is satisfied, and that the harm caused to Plaintiff in South Carolina and potential landlords in this state merits a finding of Specific Personal Jurisdiction in this case.
Uh, nope.
From the Magistrate's Recommendation (REPORT AND RECOMMENDATION – 4:17-cv-01310-RBH-KDW):
In absence of any other proof directly connecting Defendants to any activity in or connection to South Carolina, Plaintiff has failed to make a prima facie showing that any of the Defendants intentionally directed any of their allegedly defamatory statements to residents of South Carolina or purposely availed themselves of the privilege of conducting activities in South Carolina.
Heh. "Plaintiff has failed…"  She says it again in the next sentence:
Additionally, Plaintiff fails to show that his alleged injuries directly arose from Defendants' activities in South Carolina because it is just as likely that his asserted damages arose from disparaging statements made about him when he lived in Iowa, Wisconsin, or Maryland, not only because of statements made after he relocated to South Carolina in April of 2017, shortly before he filed this case.
So wait, if the damages occurred in Iowa, Wisconsin or Maryland, maybe he should try one of those states?
Maryland (1:15-cv-01241): Dismissed with Prejudice ("I'm running away so you guys will stop blogging about me on your blogs that I can't stop reading.")
Wisconsin (2:15-cv-01516-NJ): Dismissed for lack of Personal Jurisdiction.  From Order:
In sum, exercising jurisdiction over Palmer and Johnson would not comport with due process. Schmalfeldt has not shown that, with respect to the incident at issue, either Palmer or Johnson would have foreseen or been given fair warning that they could and would be sued in Wisconsin in relation to incidents underlying this lawsuit. Because I find that exercising jurisdiction would not comport with due process, I need not consider the remainder of the defendant's arguments for dismissal.
Reminds me of how often he would figuratively dance, admonishing defendant's they were going to have to stand in front of a judge and explain their conduct.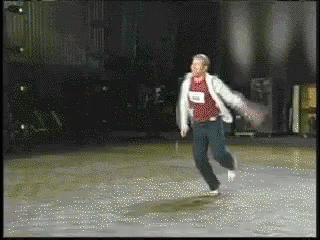 As far as the courts are concerned, I think Bob Barker said it best:
"..he did that three times without ever once getting one thing right."
Well, eight times, but yeah.